This section of the website showcases the work of Architectural educators throughout the United States and Canada who have developed Design Studios and Projects that explore the direct integration of the issues, principles, practices and tools for carbon calculation into desigin based projects.
Carbon Neutral Studio Initiative
The SBSE Carbon Neutral (CN) Studio initiative was implemented in Fall 2007 to develop carbon-neutral teaching resources and tools; to pilot those resources and tools; and to develop a means to share educational resources and the studio outcomes for carbon-neutral design education. The studio initiative includes a network of 50 participants from around the world, and thirty-one carbon-neutral studio projects during the 2007-2008 academic year (see Figures 1 and 2).  Fourteen studios were completed in Fall 2007and the remaining studios were completed by the summer of 2008. Ten studios were undergraduate, graduate, or mixed-level elective studios; at least four were designed to satisfy the U.S. National Architectural Accreditation Board's "comprehensive design" requirement; and four were either capstone or thesis studios. The studio problem statements include: affordable and green housing programs; schools; nature centres and other public programs; high-volume retail environments; an office park/data center; other commercial programs; and several higher education projects including a 20–30 story mixed-use dormitory.
Geographic and Program Distribution: As illustrated in Figure 1, the participating institutions are geographically diverse. The studios include a range of degree programs (BSAS, B.ARCH, and M.ARCH) as well as varied curricular approaches within the different programs. One segment of architectural education not well represented is the beginning design curriculum. To address this issue, SBSE would in future like to partner with other groups, such as the annual Conference on the Beginning Design Student, to solicit participants from early design studios.
Participating Studio Projects by Climate and Type: As illustrated in Figure 2, the studio projects include a wide range of building types and climates. Predictably, small buildings are favored as modest scale projects more easily lend themselves to in-depth investigations. Also predictably, most projects are located in temperate climates. These biases were analyzed during the evaluation and tool distillation process to insure that tools appropriate for each scale and climate type are developed. Preference will be given to the underrepresented climates and project types if a proposed second round of studio evaluations takes place in the Fall of 2009. The results of the design studios form this online Carbon Neutral Design Resource website to share the educational resources and outcomes of the studio efforts. An "Educator's CND Workbook" is proposed to help educators apply the outcomes and lessons of the CN Studio. A CND Summit was held at the University of Wisconsin-Milwaukee in Fall 2008, with a follow up CND Meeting in Boston during Greenbuild 2008.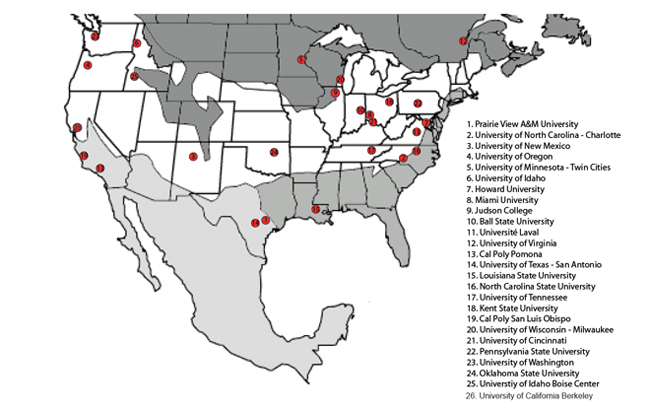 Figure 1:  Carbon Neutral Design Studio Participating Institutions
Mapped on the four climate zones of North America
Curriculum Projects Sorted by Climate Types

Figure 2:  Carbon Neutral Design Studios by Climate and Type
(note not all professors submitted projects for publication)